Are you interested in being a part of Bloomington Velo's Cycling Team? Please Contact Us.
Development Officer
Maarten Bout

AG Triathlete - Spr/Oly/70.3/Iron - 3x USAT ALL-

Team USA '18 '19 '20 '21- FLO Factory Team
charity.gofundme.com/o/en/campaign/honor-major-taylor
Education: B.A. Music Performance, Rotterdam Conservatory '02
M.A. Music Performance, Rotterdam Conservatory '05
Performer Diploma, Indiana University Jacobs School of Music, '06
M.A. Philanthropic Studies, Indiana University Lilly Family School of Philanthropy
Bio: Maarten is a triathlete who, gulp, takes proper turns at the front?! Since he's from the Netherlands originally he's somehow into flat routes and windy days. If he's not riding, he's probably swimming or running, but don't get comfortable: he will attack on the downhill when you're not watching, or lead out the guy they told you not to worry about.
He's a member of USA Triathlon's Team USA, the national age-group triathlon team, and has represented the USA at three* world championships (AUS, SUI, CAN*), and is a four-time USAT All American. He also represents wheel manufacturer FLO Cycling as a member of the FLO Factory Team.
Surgical Technology Instructor
Residence: Bloomington, IN
Education: BA Indiana University. graphic design
Bio: I started riding as a high school kid growing up in Bloomington in the late 70's. It was tennis shoes, toe clips and gym shorts (ouch). My first race was a criterium on the IU campus near Showaltrer fountain in 1977. I threw the chain on my cheap Japanese ten speed and got dropped on the first lap. I had a major epiphany in the early 80's when by chance I tuned into a documentary on WTIU, about the 1976 Paris Roubaix "Paris Roubaix Hell of the North". I got totally enraptured watching the aerial footage of Eddie Merckx charging like a locomotive across the French countryside with the tattered peleton strung out single file behind. You should check it out, Eddie's powder blue leisure suite and pork chop sideburns are pretty awesome. The following years for me have included the Little 500, road racing, mountain biking when it first hit the scene and more road racing, with a few years off here and there. Now I am happy to be in my fifth year on Team Tortuga, and am looking forward sharing in a fun and rewarding season.
Attorney
I've always loved bikes more than the average person. My first experience with competitive cycling was the Little 500. I rode for Phi Delta Theta from 1999 - 2002 and served as an alumni coach for several years. When not riding bikes, I am a husband and father to three young children. In my professional life, I am a personal injury and trial lawyer with Bunger & Robertson in Bloomington. My riding these days is mainly focused on gravel roads and mountain bike trails.
Physician Assistant
Residence: Bloomington, IN
Education: High School: James Whitcomb Riley in South Bend, IN
Undergrad: Indiana University Biology
Graduate / PA training: Cook County Hospital , Chicago, IL
Bio: Old married working guy of 34 years with a son Addison 9 and daughter Madeline 6. I practice a field of medicine not many people like to talk about...Urology.
I raced some in high school and college and am trying to get back into the racing scene as an adult with more motivation and hopefully more discipline.
Other intrests (sorry if this sounds like a personal ad on a dating site): Marine reef aquaria (you may have seen my work at the Wonderlab Science Museum) , SCUBA diving, and COOKING.

I look foreward to learing a lot from the members of TEAM TORTUGA!
Dave
Happy to join Bloomington Velo in 2021. I've been riding and racing CX and MTB for 15yrs. I mostly ride the gravel around Bloomington and HNF, but will occasionally join a Bloomington Velo road ride to have my legs torn off! I've also been involved with the Midwest Devo youth development team in Indy for five years with my son and love working with the juniors to help build their skills and love for cycling.
Electrical/Systems Engineer
Residence: Bloomington, IN
Education: AAS Digital Microelectronics; Texas Technical College
BS Electrical Engineering; Purdue University
Occupation: Electrical/Systems Engineer
Vice-President / Commercial Real Estate Broker
Residence: bloomington, IN
Education: Indiana University, BA, 1995
University of Minnesota, JD, 2001
Bio: First got into bike racing at IU as a member of the Phi Gamma Delta Little 5 team (won senior year). After years away from cycling, for the last seven years I've coached the Alpha Chi Omega women's Little 5 team. I race at the velodrome, do crits, time trials, MTB, and cyclocross. Also avid hockey and softball player.

Long time Bloomington cyclist with focus on making memories.
Kinda Retired Police Officer
Residence: Bloomington , In
Education: Graduated from BHSN 1986 and the Indiana Law Enforcement Academy in 1999.
Favorite Quote: "I ride to drink beer" - Diogo Pacheco
Non Profit Fundraising
Residence: Bloomington, IN
Education: BA Kinesiology, Indiana University
MA Near Eastern Languages and Cultures, IU
I have been biking since I was a little kid, but it was not until 2013 when I was gifted my first road bike that I really got into cycling. I enjoy cycling for the places it takes you, the camaraderie, the health benefits, and of course, the post-ride beers. Like most cyclists, I have a bike problem - road, gravel, mountain, and commuter bikes fill my garage.

I am a third year accounting PhD student at Indiana University. I live in Bloomington with my wife, Sydney and our three year black lab.
Semi-professional Everester
June 21, 2020 - Alp du Zwift Everesting Basecamp (15,020ft)
July 8, 2020 - Boltinghouse Everesting Basecamp (14,892ft)
August 1, 2020 - Alp du Zwift vEveresting (30,013ft)
August 15, 2020 - Griffy Everesting (30,505ft)
September - Boltinghouse Basecamp (14,646ft -sub 6 hrs)
September 27, 2020 - Boltinghouse Everesting (29,968ft)
October 9, 2020 - McGowan Everesting (29,337 ft - Steepest Off-road Everesting Ever)
2020 - $38,286 raise for Habitat for Humanity of Monroe County
January 9, 2021 - Alp du Zwift Basecamp (14,698ft - sub 5 hrs)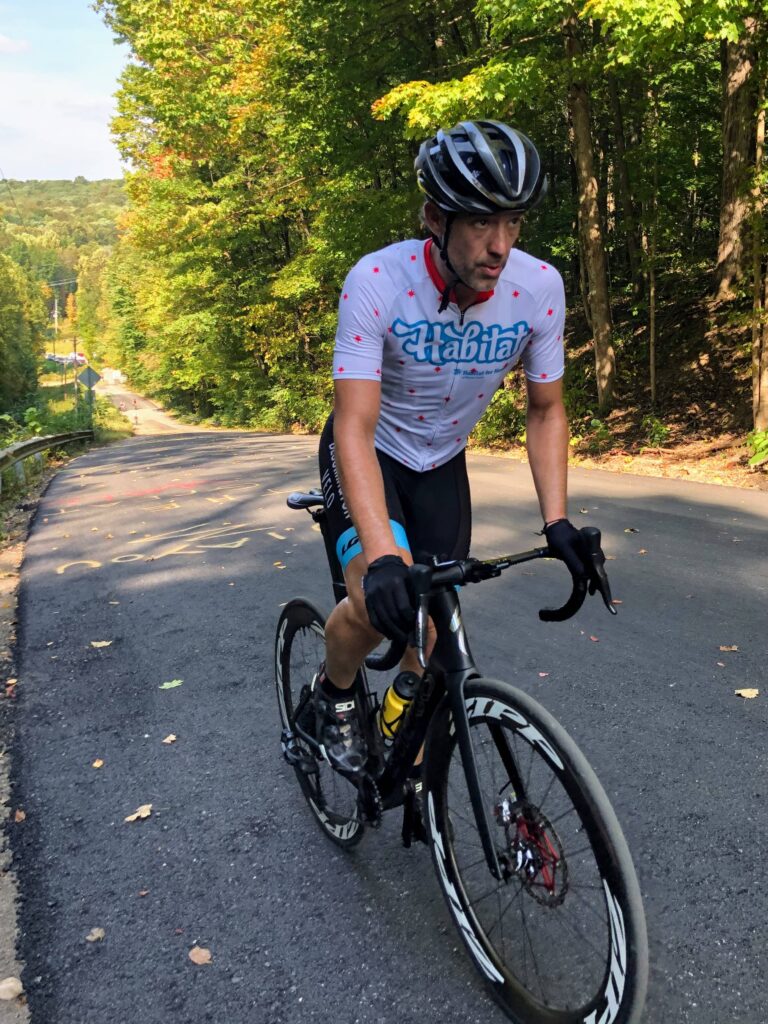 Real Estate/Financial Consult
Residence: Bloomington, IN
Education: BS in accounting from IU in 1973 and a CPA--- retired